Yale CBIT Healthcare Hackathon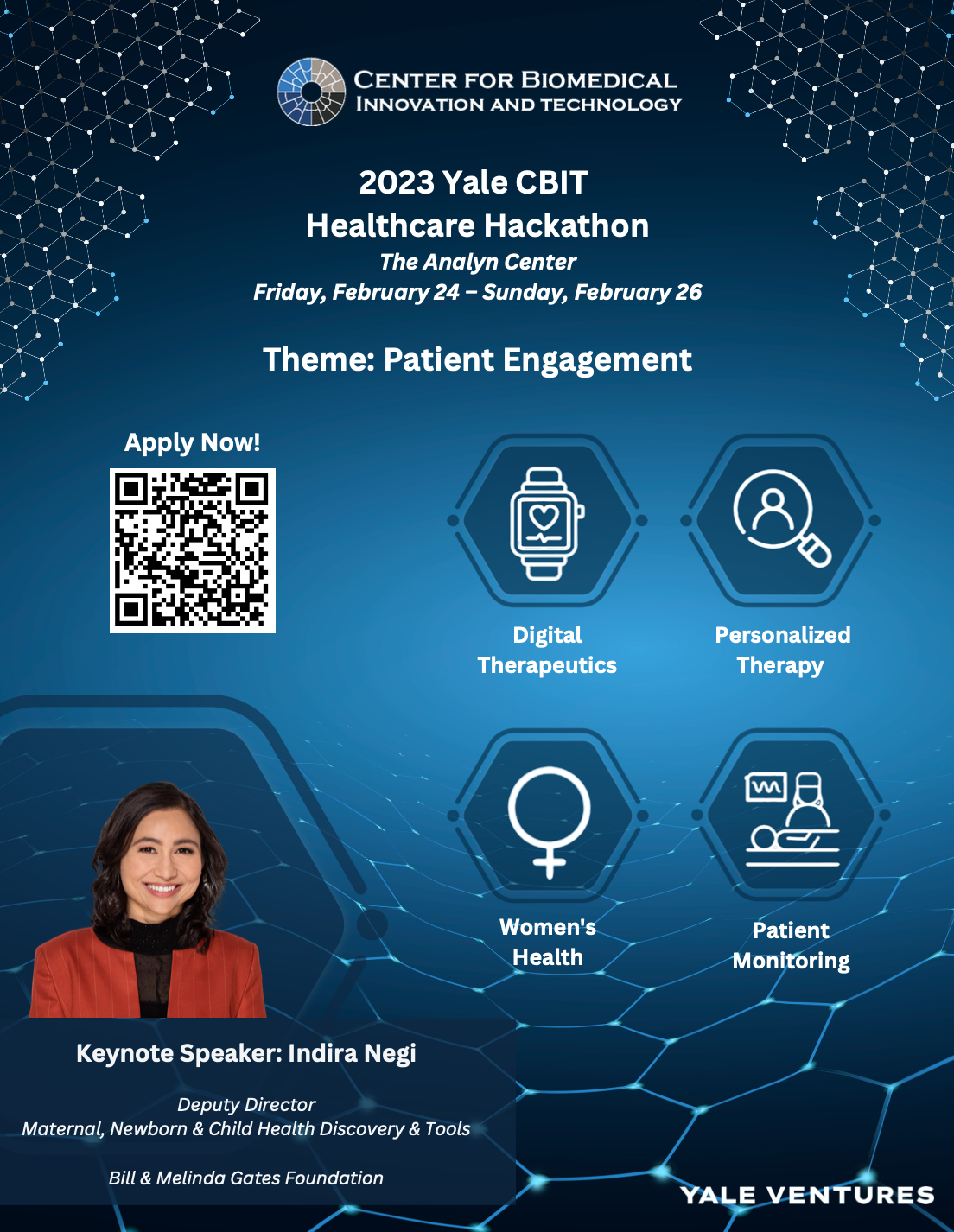 The 2023 Yale Healthcare Hackathon, taking place in person over the weekend February 24 - February 26, 2023, invites and inspires students, clinicians, programmers, engineers, designers–at Yale and beyond–to come together to hack on the theme of "Patient Engagement," for three days of collaboration, programming, and networking. 
This year's schedule features keynote speakers, networking, and a reception on Friday; problem identification, hacking and mentoring on Saturday; and novel pitches, judging, and cash prizes on Sunday afternoon. New this year will be the $5,000 Rothberg Grand Prize given to one outstanding team, with additional awards being presented  on Sunday to conclude  an exceptional weekend of talent, hard work and perseverance.
Yale's Center for Biomedical Innovation & Technology (CBIT) has led and organized the Yale Healthcare Hackathon since 2014, bringing together over 2500 participants to hack on the greatest needs in digital therapeutics, personalized therapy, women's health, and patient monitoring. The event is open to the public.
Event Highlights
200+ registrants: Welcoming participants from Yale, our local community and beyond, including international participants from Brazil, Philippines, and Canada.
Theme: Patient Engagement, with special tracks in digital therapeutics, personalized therapy, women's health, patient monitoring.
Keynote speakers: Indira Negi, Deputy Director Maternal, Newborn & Child Health Discovery & Tools from the Bill & Melinda Gates Foundation and Ena Williams, Chief Nursing Officer and Senior Vice President at Yale New Haven Hospital.
Mentors: Over 40 experienced mentors are confirmed and ready to offer guidance to teams throughout the weekend.
Cash prizes: A $5,000 Rothberg Grand Prize will be awarded to one team, and additional cash prizes will be awarded additional teams on Sunday, Feb 26th.
Sponsors: Rothberg Catalyzer@Yale, Yale New Haven Health Center for Healthcare Innovation, LRV Health, and the Sustainable Health Initiative (YSPH).