The Blavatnik Fellowship in Life Science Entrepreneurship Announces 2022/23 Cohort
Image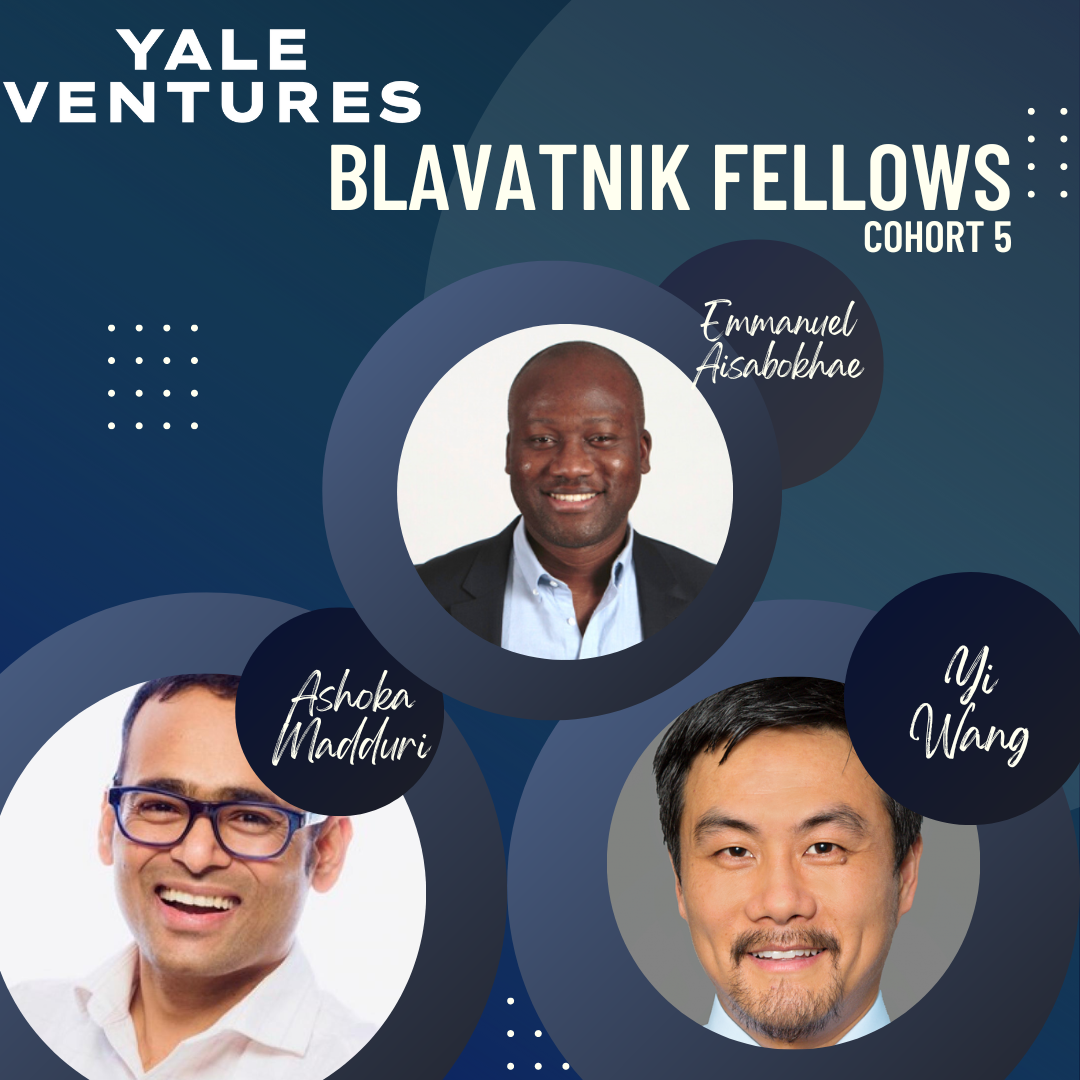 The Blavatnik Fellowship in Life Science Entrepreneurship Announces 2022/23 Cohort
Three Talented Fellows Join Yale Ventures
New Haven, CT. August 2, 2022 - The Blavatnik Fellowship at Yale, made possible by a generous grant from the Blavatnik Family Foundation, is designed to identify promising scientists and businesspeople with a passion for biomedical entrepreneurship, and to provide a proactive experience for building their entrepreneurial skills while simultaneously providing mentorship and professional development responsibilities. The fifth cohort includes Emmanuel Aisabokhae, RPh, MBAv, Ashoka Madduri, PhD, MBA, and Yi Wang, PhD, MBA, who were selected from an extensive group of applicants after a rigorous interview process in early 2022. 
"During this intensive one-year fellowship, these fellows will work closely with Yale faculty seeking to advance new venture ideas across the life science spectrum at Yale, encompassing therapeutics, digital healthcare, computational tools, and medical devices. Together, the faculty and fellows will be supported by a growing range of entrepreneurial advisors and experienced life science investors," explained James G. Boyle, Ph.D., Executive Director of Faculty Entrepreneurship and Venture Development at Yale Ventures, who has led the fellowship program since its creation in 2018. 
Hear from the 2022/23 Blavatnik Fellows:
Emmanuel Aisabokhae, RPh, MBA: "As a clinical pharmacist, I have experience in reviewing clinical trial data for inclusion of medicines in hospital formularies, and my experience in the pharmaceutical industry in both the R&D and the commercial ends of the industry will enable me to work with teams and their medical technologies to convert their ideas into compelling value propositions for improving patient outcomes. As a Blavatnik Fellow, I hope to facilitate and accelerate the journey from bench to bedside for promising early-stage medicines."
Ashoka Madduri, PhD, MBA: "Yale is home to a rich ecosystem that provides an incredible platform for budding entrepreneurs who are excited about the potential of novel technologies to transform the healthcare industry. The scientific background combined with business strategy experience in biotech industry enables me to apply multiple lenses in order to translate early-stage technologies from bench to bedside."
Yi Wang, PhD, MBA: "I found the Yale Blavatnik Fellowship while attempting to license technologies from US universities. I have been an early-stage life science startup operator, consultant, angel investor, and tenured professor. My experience blends business operation and scientific research in both biotechnology and public health. Having helped raise $7 million in seed funding and consulted early-stage startups in fundraising and business strategy, I am eager to play a primary role in helping faculty to commercialize their own technologies."
The Blavatnik Fellowship at Yale is a proven professional catalyst. The intensive hands-on experience has prepared previous Fellows for C-level positions within startups they have helped to build. To see where past Yale Blavatnik fellows are working currently, please visit: https://ocr.yale.edu/blavatnik-where-are-they-now.
About the Blavatnik Fund for Innovation at Yale:
The Blavatnik Fund for Innovation at Yale is made possible by a generous grant from the Blavatnik Family Foundation and supports Yale faculty in the commercialization of applied research and technology in the life sciences. A significant obstacle to the development of early-stage university discoveries is the lack of funding for the proof-of-concept and validation studies needed to demonstrate commercial potential. To overcome this barrier, the Fund provides funding and business development support to help validate nascent technologies and identify potential industry partners to advance these technologies to the marketplace.