Eight Yale Faculty Take Home Awards at the 2022 Yale Life Sciences Pitchfest 
Image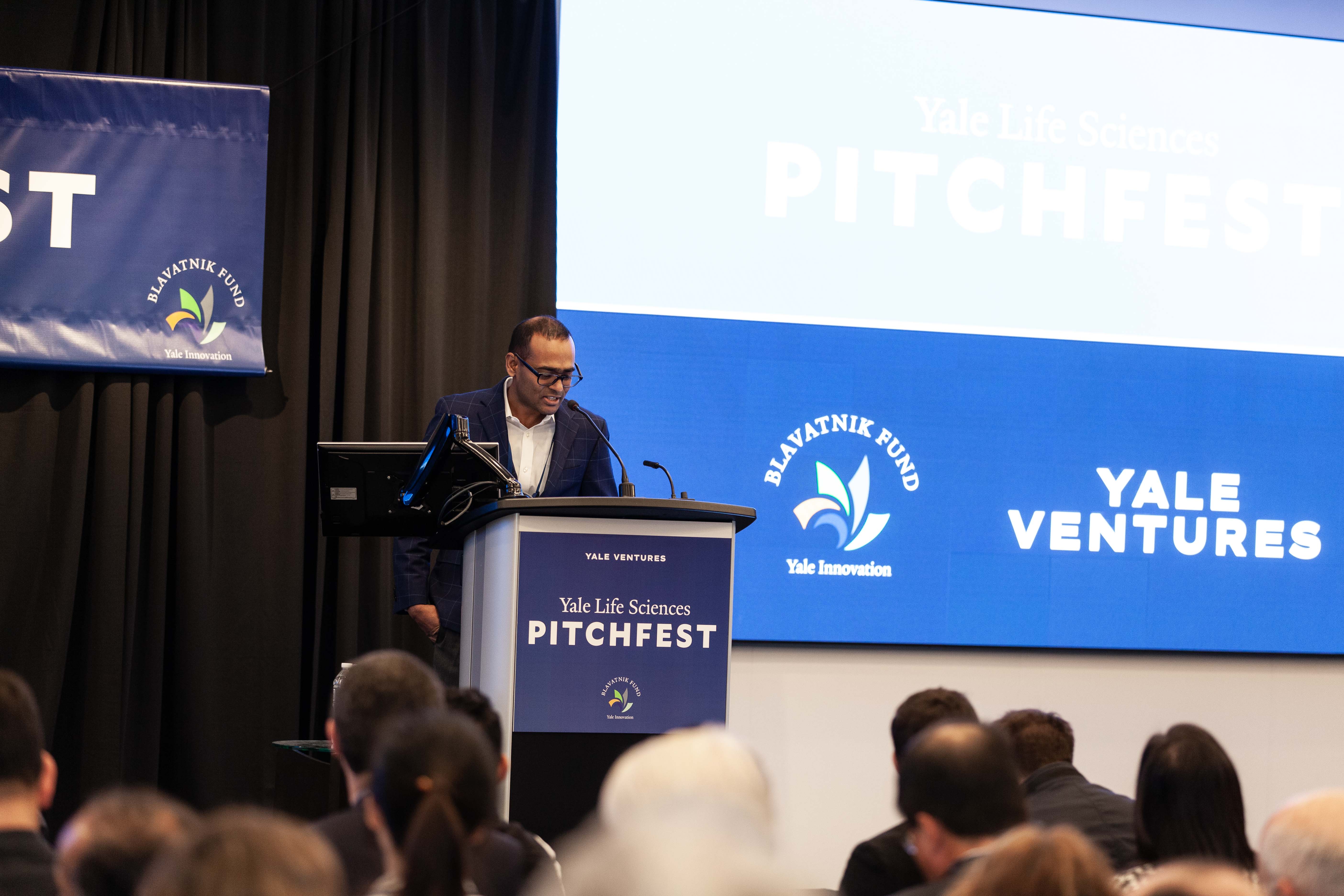 The 2022 Yale Life Science Pitchfest held on December 8, 2022 featured 31 Yale faculty innovators presenting breakthrough research projects in therapeutics, medical devices, and digital health to a crowd of over 325 people from 120+ companies, including 14 industry judges.  
Over the course of the day each Yale faculty-led team presented their projects in 5-minute pitches followed by a 3-minute Q&A with the judges. Following nearly seven hours of pitches, the judges awarded four awards to eight Yale faculty, recognizing the most exciting life science research coming out of Yale laboratories this year. 
"Some of the most exciting science is happening here in New Haven," said Josh Geballe, Senior Associate Provost and Managing Director at Yale Ventures. "The people, ideas, and partnerships that converge here at Yale Life Sciences PitchFest represent New Haven's flourishing life sciences innovation community of scientists, industry, investors, and partners." 
Held in person at Alexion Pharmaceuticals in downtown New Haven, Yale Life Sciences Pitchfest serves as the quarterfinals for The Blavatnik Fund for Innovation at Yale. The Fund, supported by a grant from The Blavatnik Family Foundation, is a Yale Ventures accelerator for Yale faculty that supports the commercialization of applied research and technology in the life sciences. Since its inception over 7 years ago, The Blavatnik Fund for Innovation at Yale has funded 46 early-stage life science projects resulting in the creation of 12 ventures that have collectively raised $210M, many of which call New Haven home.  
This year's pitches not only spanned life science research but in some cases merged segments, observed Blavatnik Fellow Emmanuel Aisabokhae. "I saw some convergence between the technology and therapeutics segments. For example, insights from medical technology offering the potential to influence medication decisions and therefore be of potential interest to both medical technology companies and typical therapeutic companies," said Aisabokhae. 
Congratulations to this year's recipients: 
1st Place

Anthony Koleske, Ensign Professor of Molecular Biophysics and Biochemistry and of Neuroscience; Deputy Dean for Research, (Basic Science) 

2nd Place

Kevan Herold, C.N.H. Long Professor of Immunobiology and of Medicine (Endocrinology)

Farida Ahangari, Assistant Professor, Internal Medicine 

3rd Place

Anton Bennett, Dorys McConnell Duberg Professor of Pharmacology and of Comparative Medicine; Director, Yale Center for Molecular and Systems Metabolism

Ruslan Medzhitov, Sterling Professor of Immunobiology

Ian Odell, Assistant Professor of Dermatology 

4th Place

Nicholas Economos, MD/PhD student

Rohan Khera, Assistant Professor, Cardiovascular Medicine and Health Informatics 
The 2022 Yale Life Science Pitchfest prizes were awarded by the events lead sponsor, J. Dormer Stephen from Shipman & Goodwin LLP. Additional event sponsorship support was provided by BioLabs New Haven, Catalent, GenScript PROBIO, and Twist Biosciences.  
In addition to the cash awards, BioLabs New Haven sponsored a "One Year of Free Bench Space" prize, awarded to Professor of Medicine Choukri Ben Mamoun.