Hacking Patient Engagement at the 2023 Yale Healthcare Hackathon
Image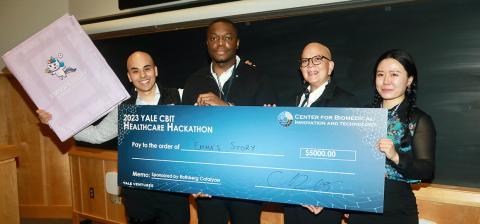 How can we improve patient engagement? This question formed the basis of three days of collaboration, team building, problem-solving, rapid prototyping, and pitching at the 2023 Yale Healthcare Hackathon. Over 100 students, clinicians, and industry participants attended in person, forming 15 teams, coached by 30 mentors, with 5 expert judges, came together at the 10th annual Yale Healthcare Hackathon organized by the Yale Center for Biomedical Innovation and Technology (Yale CBIT) on February 24-26, 2023. 
The winning team, Emma's Story, led by Obinna Anosike, Zora Luan, Jhonatan Nagasako, and Andrea Orane, developed a platform to help children better cope with oncology diagnoses through storytelling. They received a $5,000 grand prize, sponsored by the Rothberg Catalyzer at Yale. 
"It is incredible to watch diverse, multidisciplinary teams come together and build innovative approaches in just one short weekend," said Margaret Cartiera, Innovation Director at Yale CBIT. "They dive into the problem, understand the different stakeholders and users, and think creatively to solve the most challenging problems in healthcare. Their passion, energy, and enthusiasm are remarkable!" 
Hackathon participants gathered at the Yale School of Medicine to hack the theme "patient engagement" in tracks that included digital therapeutics, personalized therapy, women's health, and patient monitoring. Beginning on Friday evening, participants first identified 33 original pain points, forming 15 teams to respond to them. The teams worked to refine their ideas, iterating over two days with mentor feedback, pitching their final ideas at the end of the three-day event.  
"Healthcare innovation comes from across Yale. CBIT started to connect innovators and provide support for the Yale School of Medicine and School of Engineering & Applied Sciences and has evolved into partnerships with every corner of Yale and events such as the Yale Healthcare Hackathon," said W. Mark Saltzman, Faculty Director at Yale CBIT, Professor at Yale School of Engineering & Applied Sciences, and Deputy Dean for Innovation and Entrepreneurship. 
Indira Negi, Deputy Director of Maternal, Newborn, & Child Health Discovery & Tools from the Bill & Melinda Gates Foundation gave the keynote, inspiring attendees at the Friday kick-off by sharing stories that drew from her experience at the Bill & Melinda Gates Foundation—highlighting the importance of patient engagement and designing for your user.   
"The Hackathon is our signature event inspiring a culture of healthcare innovation, bringing together innovators from across disciplines, areas of expertise, perspectives, and from across the country to focus on a singular goal: improving health care.  We are deeply grateful to our sponsors, partners, mentors, and faculty supporters, but we are most indebted to the participants," said Max Laurans, Faculty Director at Yale CBIT and Assistant Professor of Neurosurgery and Vice President, Surgical Services. 
Yale Healthcare Hackathon Award Recipients

Rothberg Grand Prize ($5,000): "Emma's Story" 

Team Members: Obinna Anosike, Zora Luan, Jhonatan Nagasako, Andrea Orane 
Summary: storytelling and coping platform for children to lessen the uneasiness of oncology diagnosis 

Runner up ($2,500): "FootBit" 

Team Members: Vijay Bhaskar Chiluveru, Muntaser Syed 
Summary: simple, cost-effective, non-invasive & real-time gait measurement & monitoring solution 

YSPH Special Prize ($1,000): "PlayFit" 

Team Members: Kyle Feliciano, Emily Qian 
Summary: tool for parents of children who play video games, to encourage and reward physical activity 

Audience Prize: "All of Me" 

Team Members: Alev Baysoy, Rory Bonner, Dan Fitzgerald, Alaaddin Ibrahimy, Urvil Shah 
Summary: healthcare data aggregate creating a lifelong medical record to empower self-care 
About Yale Center for Biomedical Innovation and Technology 
The Yale University Center for Biomedical Innovation and Technology (CBIT) is an interdisciplinary initiative to convene and guide Yale innovators to solve the greatest challenges in healthcare. The center catalyzes biomedical and healthcare technology development by educating the next generation of innovators, mentoring all comers on their journey, and surrounding entrepreneurs with the necessary resources.  
Launched in 2014, Yale CBIT provides support to faculty and students creating novel medical devices, diagnostics, and digital health solutions across Yale University. Starting with the Yale School of Medicine and Yale School of Engineering and Applied Sciences, CBIT has developed partnerships with the School of Management, Yale New Haven Health, the School of Public Health, Tsai CITY, and Yale Ventures. In addition to supporting innovation teams working in those spaces, CBIT has established new classes, and sponsored events to contribute to strengthening the Yale innovation community including CBIT's signature event, the Yale Healthcare Hackathon.