The Blavatnik Fund for Innovation at Yale Awards $2.5 Million to 11 Yale Faculty-led Projects Developing New Therapeutics and Health Technologies
Image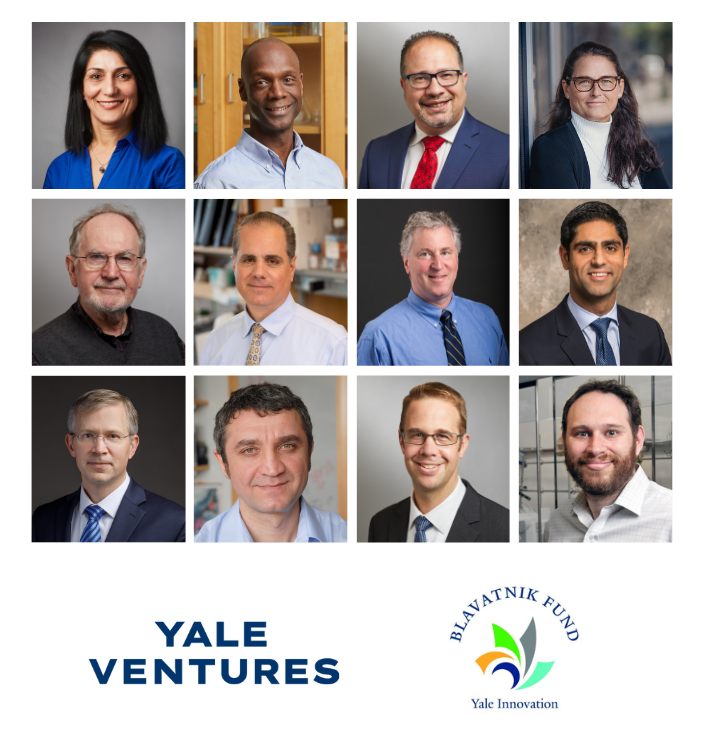 Yale Ventures is pleased to announce the recipients of the 2023 Blavatnik Awards: 11 new Yale faculty-led projects will receive $2.5 million in accelerator funding. The Blavatnik Fund for Innovation at Yale, made possible by a generous grant from the Blavatnik Family Foundation, supports Yale faculty in the commercialization of biomedical and digital health innovations. This year's recipients will be recognized at a ceremony during the 2023 Yale Innovation Summit on June 1.
The Blavatnik Fund for Innovation at Yale is an accelerator fund run by Yale Ventures combining business expertise and intensive guidance with essential non-dilutive funding to support innovative Yale investigator-initiated research at all levels. The goal of a completed project is partnership with industry, through licenses to existing biopharmaceutical companies and startups or industry-sponsored research agreements. Since the Fund's launch in 2017, it has supported 56 projects with a total of $16.3 million in funding. Yale-Blavatnik-funded projects have resulted in 14 spinoff companies that have raised over $250 million in venture funding, and three funded projects have achieved FDA Investigational New Drug (IND) status.  
"This year's Blavatnik Award projects reflect the multitude of innovations in drug discovery and biomedicine by a diverse cadre of Yale faculty in some of the areas of greatest need in medicine today. These new therapeutics, digital health and platform technologies have been selected for their potential to impact unmet medical needs. I am deeply grateful for the continued generosity and partnership from the Blavatnik Family Foundation for their commitment to supporting Yale's impact through innovation," said Michael C. Crair, PhD, Vice Provost for Research, Yale University.
The new 2023 Blavatnik awardees are:
Farida Ahangari, MD, Assistant Professor of Medicine (Pulmonary): Targeting Profibrotic Macrophages Using Mir-33 Inhibitors, a Novel Therapeutic Approach for Pulmonary Fibrosis
Anton Bennett, PhD, Dorys McConnell Duberg Professor of Pharmacology and Professor of Comparative Medicine; Interim Chair, Pharmacology; Director, Yale Center for Molecular and Systems Metabolism; Director, BBS Minority Affairs: Allagium Therapeutics - Driving change to better health
Vicente Diaz, MD, MBA, Assistant Professor of Ophthalmology and Visual Science; Chief of Ophthalmology, Yale Health; Chief of Ophthalmology, Bridgeport Hospital, Ophthalmology & Visual Science: Extended Release Latanoprost Wafer for the Treatment of Glaucoma
Lynn Fiellin, MD, Professor of Medicine (General Medicine), Yale Child Study Center, and Public Health (Social and Behavioral Sciences); Firm Chief, Quality & Safety, Internal Medicine; Director, Yale Center for Health & Learning Games, Internal Medicine; Director, play2PREVENT Lab at Yale, Internal Medicine; Instructor, Investigative Medicine Program; Director, ForAGirl Program, Yale School of Medicine, Internal Medicine: Playbl: Harness the power of play to enable healthier and better lives for adolescents
Michael Girardi, MD, Vice Chair for Faculty Development and Scientific Innovation, Evans Professor of Dermatology; Director, Residency Program, Dermatology; Co-Director, T32 Research Fellowship Program, Dermatology: Immunotherapeutics to Treat T Cell Leukemias and Lymphoma
Peter Glazer, MD, PhD, Robert E. Hunter Professor of Therapeutic Radiology and Professor of Genetics; Chair, Therapeutic Radiology: Hybridex Biosciences: Enabling the next generation of safe gene editing therapeutics
Rohan Khera, MD, MS, Assistant Professor of Medicine (Cardiovascular Medicine) and of Biostatistics (Health Informatics); Clinical Director, Center for Health Informatics and Analytics, YNHH/Yale Center for Outcomes Research & Evaluation (CORE): ENSIGHT-AI
Anthony Koleske, PhD, Ensign Professor of Molecular Biophysics and Biochemistry and of Neuroscience; Deputy Dean for Research, (Basic Science): A screen for small molecule regulators of target X activity: A novel treatment for schizophrenia
Ruslan Medzhitov, PhD, Sterling Professor of Immunobiology; Investigator, Howard Hughes Medical Institute: To identify a new class of therapeutics for inflammatory diseases
Richard Flavell, PhD, FRS, Sterling Professor of Immunobiology; Investigator, Howard Hughes Medical Institute and Ian Odell, MD, PhD, Assistant Professor of Dermatology; Dermatology Director, Adult Primary Care Center: Epiregulin Inhibition to Treat Scleroderma Skin and Lung Fibrosis
David Spiegel, MD, PhD, Professor of Chemistry: Transmembrane Anchoring Bifunctional Molecules for Immunotherapy
"The Blavatnik Fund for Innovation has accelerated Yale's support in therapeutics and digital health technology, strengthening our life sciences innovation ecosystem by fostering connections and engagement between innovative Yale faculty and biopharma industry investors and companies. We look forward to working closely with these 11 Yale-Blavatnik awardees in the coming year to further develop and promote their important discoveries," said Bill Wiesler, PhD, MBA, Director of New Ventures and of Blavatnik Fund for Innovation at Yale.
"We are proud to support Yale's outstanding scientists through the Blavatnik Fund for Innovation as they research and discover new therapeutics and digital health technology for the benefit of all humanity," said Len Blavatnik, head of the Blavatnik Family Foundation.
About Yale Ventures
Launched by Yale University in 2022, Yale Ventures seeks to foster and accelerate a vibrant entrepreneurship and innovation ecosystem that increases support, resources, and opportunities for Yale innovators—faculty and students—as they translate their ideas and discoveries into new ventures that will positively impact the world's greatest challenges.  
About the Blavatnik Family Foundation
The Blavatnik Family Foundation supports world-renowned educational, scientific, cultural, and charitable institutions in the United States, the United Kingdom, Israel, and across the globe. Led by Sir Leonard Blavatnik, founder and chairman of Access Industries, the Foundation advances and promotes innovation, discovery, and creativity to benefit the whole of society. Over the past decade, the Foundation has contributed more than $1 billion to over 250 organizations.