Yale Ventures Welcomes the 2023-2024 Cohort of Blavatnik Fellows in Life Science Entrepreneurship at Yale University
Image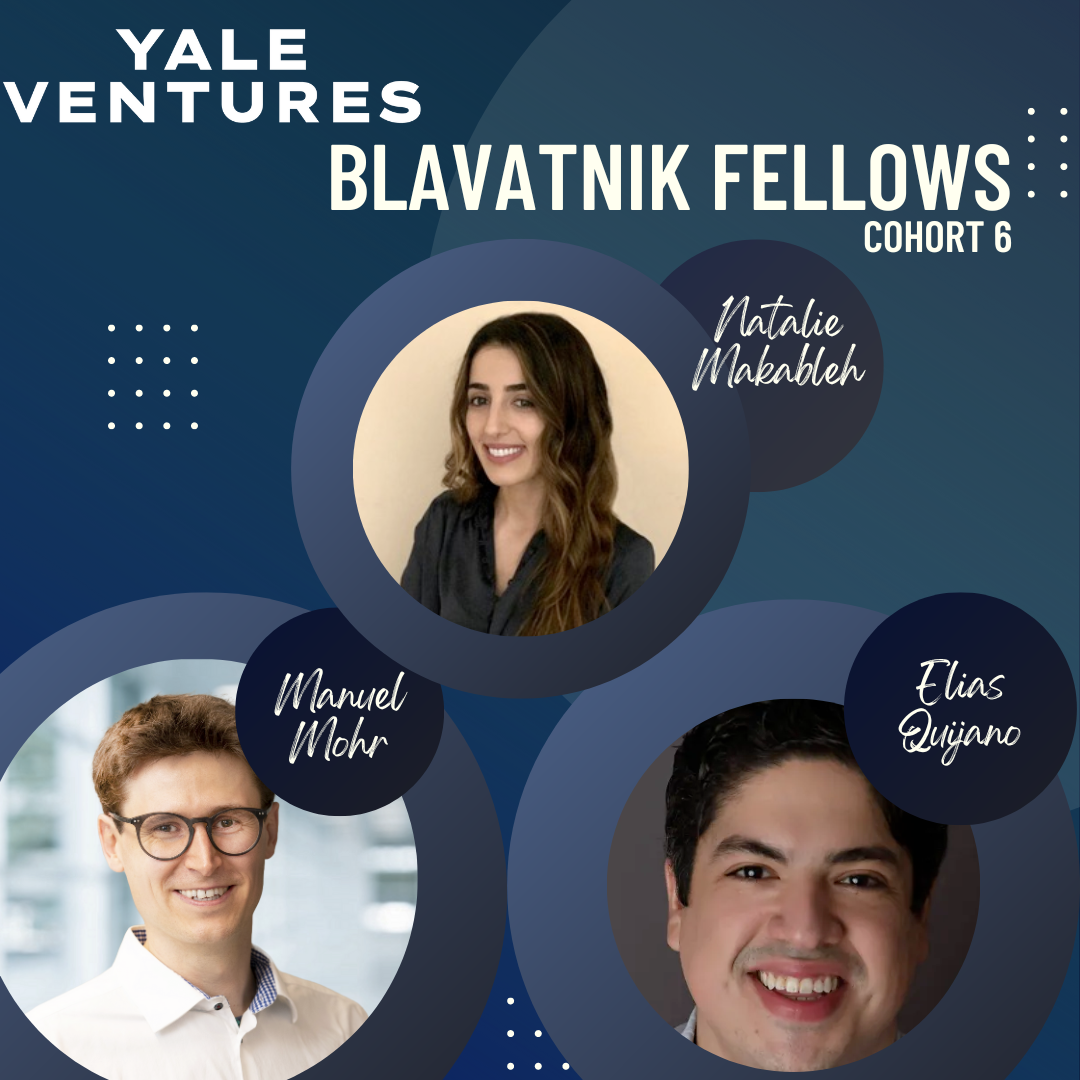 Yale University is thrilled to announce the selection of three outstanding scientists as Blavatnik Fellows for the 2023-2024 academic year. Natalie Makableh, Manuel Mohr PhD, and Elias Quijano PhD, have been chosen to participate in the Blavatnik Fellowship in Life Science Entrepreneurship program. The fellowship nurtures entrepreneurial skills in the life sciences and connects the emerging business leaders with groundbreaking innovations from across Yale University.
The Blavatnik Fellowship in Life Science Entrepreneurship initiative is part of the university's commitment to foster innovation and bridge the gap between academia and industry. This program, made possible by the generous support of the Blavatnik Family Foundation, provides a unique opportunity for experienced life sciences professionals to collaborate directly with Yale faculty to transform cutting-edge research discoveries into successful ventures that will have a significant impact on society.
The 2023-2024 cohort of Blavatnik Fellows at Yale University brings together a diverse group of professionals who have demonstrated exceptional achievements and leadership potential in their respective fields.
"This year's Blavatnik Fellows are an experienced group of scientists with deep expertise in gene therapy, CRISPR, regulatory strategy, and digital health. Their hands-on experience will be an asset to the Yale Ventures team," said Dr. James G. Boyle, Executive Director, Faculty Entrepreneurship & Venture Development, who leads the Fellowship. 
The fellows selected for this year are:
Natalie Makableh, MBA: Natalie is a regulatory affairs expert with a proven record of accomplishment in navigating the complex landscape of obtaining and maintaining government approvals for new pharmaceutical products. Natalie earned her Master of Public Health, specializing in Epidemiology of Microbial Diseases from Yale University. Additionally, she holds an MBA and B.S. in Neurobiology and Economics.
Manuel Mohr, PhD: A biotechnologist with strong hands-on experience working in different pre-clinical biotechnology settings from Europe to the US, Manuel holds a BSc in Molecular Biotechnology from TU Munich in his home country Germany as well as a MSc and a PhD in Bio Systems Science and Engineering from ETH Zurich in Switzerland. 
Elias Quijano, PhD: Elias Quijano is an early-stage life science entrepreneur with experience building companies from scientific conception to growth-stage organizations. Elias holds a PhD in Genetics from Yale University, awarded as part of a dual degree MD/PhD program.
During the fellowship, Makableh, Mohr, and Quijano will work closely with Yale's renowned faculty members, industry experts, and seasoned network of entrepreneurs-in-residence. They will receive mentorship, gain access to extensive resources and networks, and participate in tailored workshops and seminars designed to enhance their entrepreneurial acumen.
"We are delighted to welcome Natalie, Manuel, and Elias to the Blavatnik Fellowship in Life Science Entrepreneurship at Yale University," continued Dr. Boyle. "Their impressive skill sets, passion for innovation, and commitment to making a positive impact in the life sciences make them ideal candidates for this program. We look forward to supporting their entrepreneurial journey and witnessing the transformative ventures they will help develop and scale." 
The Blavatnik Fellowship in Life Science Entrepreneurship at Yale University is a premier program for aspiring entrepreneurs in the life sciences. Alumni of the program have secured funding, landed C-suite roles, and established successful startups where they are making significant contributions to life sciences. For more information about the Blavatnik Fellowship in Life Science at Yale, please visit the program's website at https://ventures.yale.edu/programs/the-blavatnik-fund-for-innovation-at-yale/blavatnik-fellowship.
About Yale Ventures
Launched by Yale University in 2022, Yale Ventures seeks to foster and accelerate a vibrant entrepreneurship and innovation ecosystem that increases support, resources, and opportunities for Yale innovators—faculty and students—as they translate their ideas and discoveries into new ventures that will positively impact the world's greatest challenges. 
About the Blavatnik Family Foundation
The Blavatnik Family Foundation supports world-renowned educational, scientific, cultural, and charitable institutions in the United States, the United Kingdom, Israel, and across the globe. Led by Sir Leonard Blavatnik, founder and chairman of Access Industries, the Foundation advances and promotes innovation, discovery, and creativity to benefit the whole of society. Over the past decade, the Foundation has contributed more than $1 billion to over 250 organizations. See more at www.blavatnikfoundation.org.